Office of the Fire Marshal
Assistant Deputy State Fire Marshals
Chief Richard A. Waterman
Private James A. Waterman II
The Assistant Deputy State Fire Marshals for the Harmony Fire District are responsible for, but not limited to, the following duties:
Fire Code Inspections
Fire Code Plan Reviews
Smoke & Carbon Monoxide Detector Inspections for the Resale of Residential Properties
Inspection and Plan Review Fees
Residential Plan Review Procedure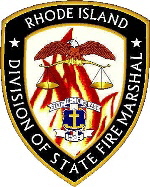 Every request for a complete plan review or a fire detection system/carbon monoxide system review by the Harmony Fire District under the provisions of the RI Fire Safety Code shall be accompanied by the appropriate fee.
Residential Smoke/Carbon Monoxide System Resale Inspections. Should the property fail the 1st inspection, there will be a 2nd $30 fee for re-inspection.
2. Plan Reviews for New Construction of a One-Family Unit
3. Plan Review for New Construction of a Two-Family Unit
4. Plan Review for New Construction of a Three-Family Unit
5. Plan Review for Remodel/Basement Construction
6. Solar Farm Land Review
7. Plan Review for Commercial Construction
Calculated according to fee structure
RIGL 23-28.2-26
NEW BLDG., ADDITIONS, ALTERATIONS, STRUCTURES, SOLAR PANEL FARMS, ETC.
General permit fees based on cost of construction
Over $2,000 but not over $500,000 . . . $45.00+
(Plus $6 per $1,000 or fraction thereof over $2,000)
RI Fire Safety Code Board
5/1/2019 Updates For Smoke / Carbon Monoxide Detector Inspections
View/Download Code
Access Lock Box
All places of assembly are required to have an "Access Lock Box" according to the RI Fire Safety Code.
Please contact our office for further information.
(401) 949-1188 TDD 711